PRICING RESET
The Situation
Reset
Key industry cost drivers are putting pressure on agent service providers and professional van operators. An upsurge in small moves creates inefficient routing and demands more qualified labor. At the same time, rising costs and stagnant pricing have resulted in razor thin margins. It's time to communicate an Atlas reset on pricing to preserve our SERVICE CAPACITY, VAN OPERATORS and QUALITY.
THE KEY DRIVERS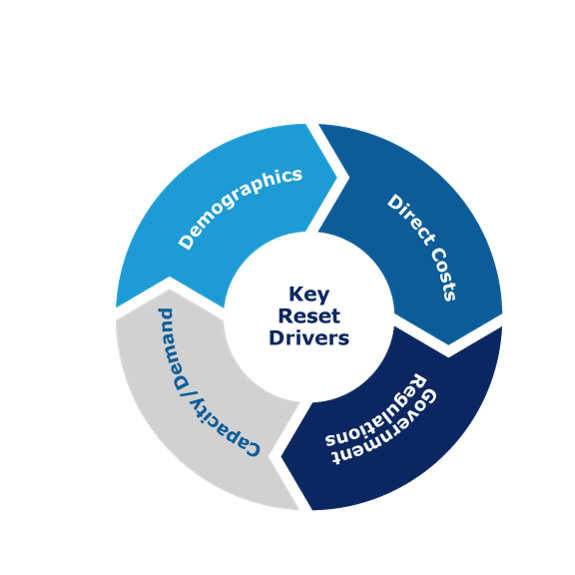 Demographics
Nearly half of all moves are non-traditional.
Smaller, non traditional moves are trending. Small shipments (under 5,000 lbs.) account for nearly half of all moves.
Direct Costs
In theory, Atlas passes on these costs.
Since 2012, our cost components have far outpaced our historical general rate increase (GRI). While costs have risen a weighted average of 24.33%, our GRI (after discount) has only risen 5.06%.
Capacity & Demand
Recruiting and retaining.
Spiraling costs for labor, packaging materials and equipment make it difficult to recruit and retain Professional Van Operators (PVOs), the group upon whose shoulders our service delivery rests.
Government Regulations
Compliance reduces capacity and increases cost.
FMCSA Hours of Service Regulation effectively take away 1.64 weeks of labor per year per van operator.
In addition, the cost of adding Electronic Logging Devices to track the hours (mandated in 2017) across the entire fleet is significant. State regulations, similar to California's CARB emission standard, are expected to increase. CARB alone affects half of the fleet and raises costs by 6% per truck.
ATLAS RESET STATEMENT
Atlas is revaluing our services to reaquire capacity and uphold quality service expectations. Our strategic reset reflects the true market value of our services and reinforces the premium, respected Atlas brand. Most importantly, it supports the livelihood of the ATLAS AGENTS and PROFESSIONAL VAN OPERATORS performing the service.